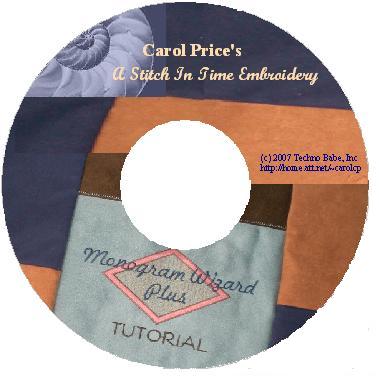 Computer CD-ROM tutorial includes screen shots, videos, and audio. This tutorial covers the entire Monogram Wizard Plus program with detailed explanations of the tools and features. Includes over 50 different combinations of monograms and motifs with details on how to recreate the various styles. Hints, tips, and solutions are all included in this tutorial.
If you are having issues running the tutorial in Windows 10 please visit my You Tube Video.
If your videos don't play, it is most likely your computer is missing the DLL file. Download it from here. Double clickon the TSCC.DLL file, follow the on screen directions. Shut down your computer and restart it for the driver to take effect.
Note: resale. copies, transfer of these items is not allowed as per the end user license agreement. Because of the nature of the product, we do not allow refunds of design sets or tutorials. If the software is defective, it will be exchanged for the same product.
Start up screen
Running Monogram Wizard Plus
Parts of the Monogram Wizard Plus screen
Monogramming Styles
Monogramming Font
Motif packs
Letter Styles

Inputting monograms
Inputting single line of text
Inputting multiple lines of text
Inputting up to 10 lines of text
Design adjustments
System Function

Monogram Information




Color Sequence




Adding motifs to monograms




Punctuation




Layers




Needleheads web site


Extreme lettering styles


Lets get creative




Lets get creative – Appliqués


Miscellaneous


Reference sheet




English to Greek characters
English to Hebrew characters
More combinations of motifs and fonts – no videos attached
Copyright (c)1998 - 2020 Techno Babe, Inc.